Diamond Notes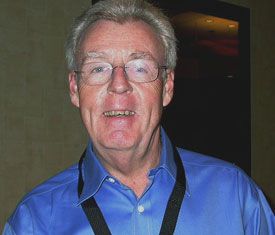 When it came time to negotiate a new contract this off-season, Red Sox catcher Jason Varitek told his agent Scott Boras to play hardball, but in his heart Varitek knew that there was only one place for him - manning the plate in Fenway Park as he's done for the past seven years.
And if you're wondering why the Red Sox signed Varitek to that monster contract before the season began, they can sum it up in one word: intangibles.
Intangibles.
"He does all the little things, and makes them seem so easy," gushed one Red Sox executive recently - and this was before Varitek hit that walk-off homer against embattled A's closer Octavio Dotel last week. People in the know about intangibles report that it isn't a surprise that the Yankees are struggling to play .500 ball while Varitek is near the league lead in hitting. With such a limited supply of intangibles in this world of steroid testing, and Varitek may be staking his claim to the territory once intangibly occupied by the likes of Derek Jeter.
Without Varitek, the Red Sox would be a good team, but not the powerhouse they've proven themselves to be over the last couple of weeks. He's a versatile switch-hitter with serious home run clout, a good baserunner for a big man, but his real talents lie in preparation and pitcher management. He has a real rapport with everyone on the Red Sox staff - even ladies' man David Wells. Although closer Keith Foulke is struggling, the Red Sox aren't concerned; they think they can win the AL East outright, and Varitek is the reason.
-- If Dotel's collapses are a harbinger of anything, it's that these Oakland A's are going to have their work cut out for them in the AL West. It might be tempting to count them out if they played in any other division, but let's not forget that nobody in their division is flawless. "Anaheim can't hit, Texas can't pitch, and Seattle's bullpen anchor is J.J. Putz," reports a scout. "And the A's finish every year faster than Brady Anderson on his wedding night." Barry Zito is probably cooked, however, and the A's might be better off starting the actual LaMarr Hoyt every five days than the once-dominating lefty whose career arc resembles Hoyt's more and more.
• Privately, the Marlins have no regrets about trading Derrek Lee and Hee Seop Choi, not with big bopper Carlos Delgado making the transition to the NL smoothly, but somewhere in that front office, someone's got to be second-guessing the moves that sent two of the most patient and intelligent hitters in the league to greener pastures in Chicago and Los Angeles. They know the true extent of Mike Lowell's decline, and it might not just be an early-season slump; the problem is that staff ace A.J. Burnett's impending free agency makes him Priority
Numero Uno
on the Marlins' off-season slate.
Finding a capable third baseman (maybe Bill Mueller?) for insurance in case Lowell's lost his smile may be too much for Florida's limited budget to bear, especially with so much
dinero
tied up in Delgado's deal; some Miami brass think that Lowell may have simply lost his ability to produce on a stage bigger than "People
en Espanol
," but replacing his once-potent bat could be
muy complicado
in this competitive market.
• As for Choi, the same Dodger higher-ups who were recently decrying him as a "useless sack of s---" are now hailing his pitch selection and power to all fields. Making the transition to Dodger Stadium is hard for any hitter, but for Choi, a still-young prospect, it was doubly so. He didn't spend long in Marlin teal before being dealt, and he didn't have much time to acclimate himself to the quirks of Wrigley Field before that.
In LA, though, the wounds of the Lo Duca trade are still fresh, and Dodger fans' lingering distrust of Paul DePodesta affects the reputations of players like Choi and Brad Penny. Old-line manager Jim Tracy, reluctant to change his stubborn ways, might be served by remembering an ancient Chinese proverb: "Jade requires chiselling before becoming a gem."
• How excited is Nationals star Brad Wilkerson about the upcoming "Star Wars" prequel? Following the lead of
Washington lobbyists
, Wilkerson has hired a proxy to wait in line for him at the Uptown Theatre in Cleveland Park before Friday's midnight premiere. Following the Nats' Thursday matinee game against Milwaukee, Wilkerson will rush home, change into full Luke Skywalker gear, and replace his stand-in. Wilkerson says he's "psyched" about the movie, adding that he showed up at the midnight screenings of the first and second prequels during his previous stints in Harrisburg and Montreal.
• Boston prospect Cla Meredith failed mightily in his first big-league game, issuing a grand slam to Richie Sexson in a loss to Seattle, but don't fear, Sox fans; the experience will help him immeasurably, either next year as a replacement for aging reliever Mike Timlin or as a possible trade chit in a deal for a first baseman (perhaps Lyle Overbay?). Meredith also won accolades when he threw himself into Commonwealth Avenue traffic to shield a family of ducklings from oncoming traffic as they crossed the road. Meredith was feted by the local chapter of noted humane organization Friends of the Ducks, although three pedestrians died in the subsequent pile-up. Reached for comment, clubhouse manager Joe Cochran said, "Meredith's a great kid. He really gave 110% out there; it's just a shame that God was batting in the bottom of the ninth."
• Don't look now, interleague fans, but this weekend's Brewers/Twins series ought to be more exciting than "Battle of the Gridiron Stars" on ESPN. Wes Obermueller is quietly turning into a gamer.
Gamer.