Kenny's Revenge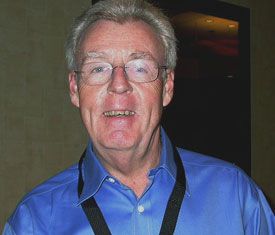 White Sox general manager Kenny Williams has developed a less than stellar reputation for trading during his tenure with the team, thanks in large part to a series of deals with the Oakland A's, most recently one that dealt away closer Keith Foulke, an anchor of the 2004 World Series champion Red Sox team. But this past winter, Williams was determined to right his ship and to put the White Sox back into contention in the AL's weakest division, the Central.
With new manager Ozzie Guillen committed to remaking an aging power-hitting team into the sort of run-and-gun small-ball outfit we're used to seeing in the AL East, Williams began searching the free agent market and trading blocks for potential bargains. Williams believes he found one in Scott Podsednik, a fast outfielder that the Milwaukee Brewers picked up from the Mariners for a handful of Rubles four years ago. To acquire Podsednik's defensive and stolen-base abilities, Williams dealt Carlos Lee, perhaps the team's best slugger.
Many GMs had their doubts about the trade. "Why deal a stud slugger coming into his prime for Willie 'Mays' Hayes?" offered one AL executive. "We all know Podsednik is fast enough to swipe some bags, but is he fast enough to outrun an angry Chicago mob after they figure out that he can't hit to save his life?"
But the White Sox's 16-7 record vindicates Williams' decisions, at least in the early going. "Even a jackass can get struck by lightning once if he sticks a rod up his butt long enough," one NL front-office person told me. While new manager Ozzie Guillen is grateful for the players that Williams has given him, he wants the credit spread for the team's fast start spread around to the pitching staff and, most importantly, new first base coach Tim "Rock" Raines.
"You send me down to South America and I can get you ten quickies like Scotty Pip," Guillen says. "But when I go down to the jungle, I'll never find me another Rock. That man is a
gift
." Designated hitter Frank Thomas agrees. "The foolish man builds his house on the sand, but he built ours on the Rock. And I damn near broke my toe on it this morning! Hot damn this hurts!"
News and Notes
With the Astros coming out the gate so slowly, is there any doubt that we'll see Roger Clemens in pinstripes by midseason? "It's a sure thing," says one scout. "But what's Jaret Wright gonna do, babysit?"
April's biggest surprise according to an informal poll of major league scouts? Not Brian Roberts, but the Arizona Diamondbacks. "They looked like one of the worst teams I've ever seen in spring training, but they're coming to play right now," one told me. "It'll be a heartbreaker when Glaus goes down for the season in the next week or two."
Sports Illustrated
's Peter King and I have been emailing about the new Bruce Springsteen record,
Devils & Dust
, and we both agree that it's the best new album we've heard since U2's last. Bruce, you're the Barry Bonds of music, and you'll always be the boss. Don't ever let them make you piss in a cup, because you're one of the greats. We'll always keep a mic warm for you at Hot Stove, Cool Music. I just know you'll finally make it this year.