Homer Neck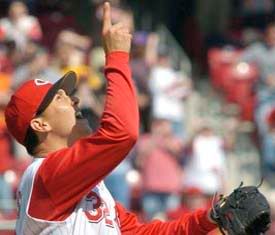 Hey folks, Danny Graves here. The
Baseball Tonight
crew has been kind enough to let me use this blog to extend my thanks to everyone who e-mailed last night with tips on soothing neck pain. My neck sure was smarting after jerking around every few pitches to watch those home runs sail out in the 9th inning! Anyhow, I'm feeling better this morning after a soak and a physical therapy session with L-Bow's buddy Austin Nichols, but I thought I'd share some of the pain-relief tips that you guys sent in. They're all keepers.
1) Carrie from Youngstown, Ohio, says, hold a hot water bottle on the inflamed muscle, applying only very slight pressure. This should help loosen the muscle, which has tensed up to avoid further injury. Right on, Carrie!
2) Bert from New York, NY, suggests a visit to an acupuncturist may be in order. This might work for some folks, but right now we ball players should probably avoid anything that involves being stuck with needles!
3) Sarah from Atlanta, Ga. says that range-of-motion stretching and strengthening exercises may help prevent further injury. She suggests standing along I-75 and trying to remain focused on a single car as it passes by at a high rate of speed. Good idea!
4) Larry B. of Bristol, Conn., says "STOP GIVING UP HOMERS A-HOLE." Point taken, Larry!