Cashing Out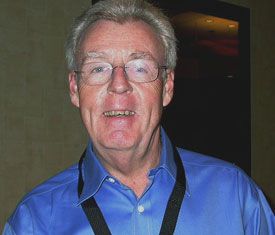 To no one's surprise, the atmosphere in the Yankees' front office can be charitably described as hostile. Holed up in his Tampa cabana like a latter-day Col. Kurtz, George Steinbrenner is about to drop the axe; the only question is whose neck will be on the stump.
Mel Stottlemyre is the obvious martyr, but pitching coaches don't take the ball every five days, and clubhouse sources indicate that a coup d'etat may not change the fact that the Yankees' staff is unfit for combat in baseball's toughest division. The resurgent Orioles are likely to be in the market for the same pitching help as the Yankees, but the pinstripes simply lack interesting prospects like Olympic hero Nick Markakis and super-sized slugger Walter Young.
Even a few rivals in the ultra-competitive AL East admit that the soon-to-be-departing Brian Cashman may be at the root of all the Yankee fooferaw. The marriage of Cashman and Steinbrenner is dissolving faster than Richard and Linda Thompson, and as the Yankees' swoon shows no signs of abatement, Cashman has very publicly given up the ghost, not even bothering to call the Padres and Pirates about the suddenly-available Adam Eaton and Oliver Perez. From his cubbyhole on 161st St, Cashman can see the bright lights, all right - perhaps in Oakland, where there may be a GM opening if new ownership decides to force out Billy Beane.
News and notes
• Pittsburgh executives who've seen Perez's velocity nosedive this year are not pleased, calling his trademark slider flat, but others in the league question the Pirates' commitment to his conditioning. "A guy that skinny needs to spend some time in the weight room or eat some steaks or whatever it is he was doing last year," said a worried NL scout. "If Moises Alou stopped hitting all of a sudden, the first thing you'd do is sniff his hands."
• Tanyon Sturtze and Chien-Ming Wang have pitched well in spot duty, but in the eyes of the New York front office, they may fall short in terms of mystique, aura and, more importantly, marketability. "Who's going to buy a shirt that says Wang on the back?" asked a Yankee insider.
• In an effort to combat suspicions about Albert Pujols' real age, the Cardinals are planning to fly in a team of Mayo Clinic dermatologists to consult their superstar. "With the right chemical peel," enthused a front-office source, "he wouldn't look a day over 35."
• How good has Gregg Zaun been in Toronto? Jays super-stud prospect Guillermo Quiroz may find himself stuck in Syracuse for the rest of the year if Zaunie keeps up his torrid .391 OBP. Quiroz is only 23, but may wind up converted to first base, a la Carlos Delgado, if the veteran Zaun, who only makes a million bucks playing for his seventh major-league team, stakes his claim to the two-hole. The Canadian dollar is so strong right now that Zaun's "even cheaper than he seems," notes one GM, "and Toronto's as worried about Quiroz's knees on that turf as they are about his throwing arm."
• Devil Rays manager Lou Piniella's recent tirade against Curt Schilling paled in comparison to his meltdown later Wednesday night. Piniella, an ardent "American Idol" fan, was incensed at smoldering sexpot Constantine Maroulis' ouster, calling it "a bunch of BS" and telling anyone who'd listen, which included a group of stunned Canadian schoolchildren on a Rogers Centre tour, that the show was fixed. "If Carrie Underwood wins, he's going to go thermonuclear," said one clubhouse source. Keep an eye out, Rays fans; the two-part grand finale is scheduled while Oakland's in town May 24-25.
• According to many observers, Royals closer Ambiorix Burgos is being rushed to the majors. "He's gonna flame out faster than Macaulay Culkin after 'Richie Rich,'" complained one AL general manager. "At this rate, they might as well send him to extended spring training at the Neverland Ranch once Jeremy Affeldt comes back."