Where Is The Love For ... MR. JIM TRACY?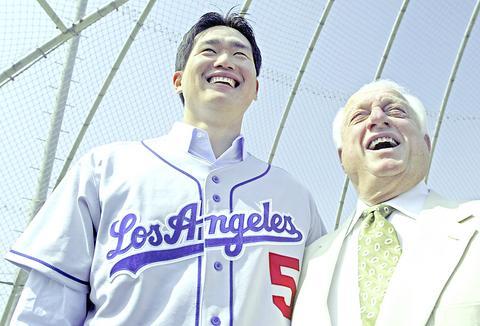 Dear Mr. Jim Tracy:
Your lack of acumen with regards to in-game management is only exceeded by your disrespect for the English language and our readership. I am SHOCKED (yes, SHOCKED) that you assaulted the fine audience of our BBTN weblog with your ill-informed and indiscrete profanity. Just look at what
this weblog
had to say about our site:
"...their profanity-laced writing reminds me too much of Eddie Murphy's less-than-comic triumphs; Tourette's Syndrome might work as a punchline, but it's painful in real life, and merely tedious as style."
No doubt Mr. 6-4-2 was referring to my rant regarding a certain Marlins pitcher I refuse to name for fear of releasing another impassioned alcohol-fueled blitzkrieg of F-bombs, and, of course, Mr. Bowa's charming asterisk-filled anecdotes. Yet, Mr. Jim Tracy, note that we - Mr. Bowa and myself - both put the sensitive sensibilities of our audience first in obscuring such coarse language. Not that you have proven you know anything about being sensible.
For instance
, when your starter, having been woefully ineffective in recent outings, gives up a single, homer, and homer in the 5th inning, why do you stick with him? Are you hoping for a confidence boost to lift his spirits? Are you too busy busting up possible "panty-*ss bullsh*t" that might destroy the hirsuite masculine integrity of our team unit? Or maybe you were looking for a new way to phrase your Stone Age reasoning for platooning one of your best hitters? Or talking to the other teams to find ways to put a hit on me (like in this game)?
Never mind that poor hangdog Jeff Weaver gave up super big flies to hitters that hit big flies like Carlos Delgado and Miguel Cabrera, but then he gives one up to DAMION EASLEY. I believe the instrument he would be compared to would be a banjo. Or perhaps a Jew's harp. Perhaps an autoharp is an appropriate reference. Regardless of the simile, no one compared to a stringed instrument should be able to hit home runs off of a pitcher of Jeff Weaver's skill. And yet, there is Damion Easley, touching them all. And STILL you do not pull Jeff Weaver out - why? Because his giving up a double to Alex Gonzalez immediately before being saved from himself proves that he needs to suck up his testicles and learn what it means to be a man through such sucking?
Yes, you are my manager, and I respect your position and your title, but I do not respect your baseball acumen, Mr. Jim Tracy. Your no-run strategies are inexplicable. Your quixotic bench usage is inconcievable. Your confidence in Scott Erickson (a player whose arm is held to its place in his shoulder socket by hopes, dreams, and wet chewed licorice) is unsubstantiated. And, because of you, Mr. Jim Tracy, we have lost our first-place lead and are now behind two teams. I do not blame you, though. I pity you. I pity you because you are a victim of your own failure.
At first, I had yet another puckish impassioned reply in mind to answer your ill-founded claims and assertions and aspersions. But anger is not the answer here, nor is the answer for me to tell you where you are wrong and type "COME ON!" with alarming frequency while drinking box after box of substandard wine-like product. We are working towards a common goal, and we must both reach the root of these problems, and we must understand why these problems occur, or order for these problems to be problems no longer.
I have done some research on you, Mr. Jim Tracy. For one, you are from Ohio, which I thought was a blue state, so I do not understand where your colloquial contractions and corn-fed demeanor come from. Was there a Wild West or Dirrrty South in Ohio? Or are you running from your heritage because you fear red-blooded Americans will shun you as an educated Yankee (or worse, a Cub)? Believe me, I understand - I have to think that the only reason baseball announcers and writers say and writer such odd things about my defensive shortcomings or my weaknesses as a hitter has some root in my ethnic heritage. Do not fear your history, Mr. Tracy. Embrace it. Learn from it. And do not repeat the same mistakes. Like this:
vs RHP
AB: 175
AVG: .250
OBP: .343
SLG: .378
vs LHP
AB: 13
AVG: .231
OBP: .231
SLG: .231
Do you recognize these numbers? These are your numbers, Mr. Jim Tracy, as a major league hitter. Only 13 at-bats against left-handed pitching. No doubt your managers said things about you such as, "We don't want to hit him against left-handed pitchers, as he might mess up his approach against right-handed pitchers." Given your RHP stats, though, maybe you were already messed up. But never mind that - no doubt this failing of yours has haunted you for the past quarter-decade. But the sins of the father are not the sins of the father's baseball team.
I am a major league hitter, Mr. Tracy. And I am a young major league hitter. I can learn, if given the opportunity to learn. And given the opportunity to fail. Because long-term success cannot be realized without experiencing short-term failure. Let me fail, Mr. Jim Tracy, so that I may achieve success. So that WE may achieve success. So that THE LOS ANGELES DODGERS OF LOS ANGELES may achieve success. Especially against those glory-grabbing, not-base-stealing, walk-fearing, nomadic-name-changing, Hudler-employing Angels. Thank you.
PS - I am rubber, you are glue. Watch as your words bounce from me into your former horse parts like Enron employee checks. Nyeah nyeah.