Where the Buffalo Wings Roam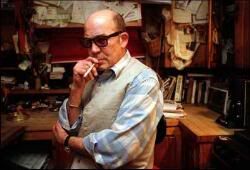 "I dunno, all that red hair – there's too much anger in this kid," a scout murmured over my shoulder late one balmy Tampa afternoon, as I sprawled out in a post-speedball rictus across a rack of crumbling bleachers to watch a young hitter from a sun-torched diploma mill called Plant High School stroke doubles into the gap during batting practice. "It's like watching the guillotine in 1789," the scout said, "Chop. Chop. Chop. Chop."
I'd been following the Carter campaign around Florida when Dave Hickey rang me up to tell me about a ball of Scottish fury who was giving high school pitchers across that whole moist, miserable swamp of a state fits, saying I better go watch the kid's smooth inside-out swing before he wised up to the grind of the minors and went to Gainesville to play football and get a degree in marine biology instead. Dave was in his finding-beauty-in-the-everyday period back then, and I was skeptical. Plus, dragging myself 300 miles up from my hotel on South Beach to watch some kid who wasn't even shaving yet splatter his old man's 58-mile-per-hour BP fastballs around wasn't exactly high on my list of good times. The thing was, despite all that searching, Dave wasn't wrong about much back then, and he wasn't wrong about the kid. The kid named Wade Boggs.
Years later, when time had taken some of the fire out of Wade's red locks (and indeed, had taken most of my hair altogether) I would return to Florida and watch the boy-become-an-elder-statesman stroke his 3,000th hit out over that crushed-velvet prom dress of a field he played on during his last two years as a Tampa Bay Devil Ray. The ball crept over the right-field fence like a spry old burglar making one last score before hopping on his Indian and heading down to the Yucatan, and but for the rows of plastic seats arrayed in its path, it might have kept right on sailing clear over the Gulf and out to those distant Mexican shores – kept on going right out into legend, instead of into the hands of some pissant who probably put it up for sale on eBay. Vultures. At any rate, that homer stands as the most momentous base knock in the Devil Rays' abbreviated history, and it's unlikely we'll see any similarly magical moments at that soap dish of a stadium again.
Now, Wade is packing up his milestones and entering the Hall, and it's hard to think of any player making the trek Upstate over the past few years that is more deserving. (Also, let's us pause to note that we all have something to be thankful for as Wade travels to Cooperstown wearing Red Sox. I don't give a good god damn if Tampa was the man's hometown – and it wasn't anyway, Wade was from Omaha. There should never be anything called a Devil Ray even remotely near the Hall. Ever. Period.)
Most of you know the in-between parts to his story: Wade hacks his way though the minors like the slow, steady hand of a lumberjack clearing a pine forest, chewing on the New York Penn and the Carolina and the International Leagues like they were just another meal -- a 662-game, 35-course meal. Then one fine day Carney Lansford, old Carney, went down with a bad wheel, and Wade busted up and through at last to Boston, where none other than Sparky Anderson anointed him as "one of the best-looking hitters I've ever seen." (Sparky wasn't much of one for the gay bars, so you know his meaning was clear.)
Like all Red Sox, Wade made a mark for himself early in the annals of The Rivalry (for good or ill), recording the last out in Dave Righetti's Independence Day no-hitter in '83. That might well have been the last time that Wade went oh-fer. Batting championships would follow, as would the shared, solitary heartbreak of 1986 and 25 guys in 25 cabs. There was the parallel development of Don Mattingly, Donnie Baseball, who, despite the whining of those sandwiched between the Bronx and the Battery, could never really carry Wade's jock. Then Wade himself would shamble down south and bring a title to the toilet. I suspect that despite the joy he chose to show those South Bronx minions, Wade probably never felt quite right about riding around on the back of that mounted police, waving to the Big City crowds. There was an ache there, you could see it -- an ache that started stinging when that accursed grounder slithered through Billy Buckner's spindly, broken-down legs. The ache has eased only on very rare occasions ever since, and then never for long.
So, that was the baseball, sure -- but there was also chicken, and lots of it. Jim Rice, who grew up deep enough in the South to be horrified at the very notion of boneless skinless chicken breasts, would dub Wade "Chicken Man," and the name stuck between Red Sox Nation's teeth like the skin on a buffalo wing. There was chicken before every game, dished out in exacting specifications of portion and duration, in a parade of poultry not seen in the Bay State since Miles Standish sat down to break bread with the Injuns. Very likely there was at least a thigh or two after the game, as well, if you grasp my meaning. It was the 80s, people, and excess was everywhere. Even if you were on the food stamps.
Chicken wasn't the only routine that Wade embraced, however. In the field, he would take exactly one hundred and fifty ground balls before a game. No more, no less. He took his batting practice at precisely 5:17 p.m. and ran his sprints at 7:17. (Mercifully, Wade was well along the road to retirement by the time the 7:05 start, a sissified time to start a game anyway, become the national standard. Trains leave the station at 7:05. Men play baseball at 7:30. ) He drew some kind of Buddhist symbol in the dirt every time he went to bat -- or maybe it was Margo Adams' initials, shit if I know. These were heavy freebasing days for me, and it took an Olympic effort for me to even endorse the occasional check from Jann.
There are plenty of other stories out there about stewardesses and
Penthouse
and snorting lines off the nubile young posteriors of various Yawkey heiresses. Those, too, were good times, but times perhaps best left at the door of this august chamber, here in the beautiful rolling hills of New York State. Besides, I have probably already gone on too long. I thank you for your patience. We all thank Wade for his ever dependable if quiet greatness.
Hunter S. Thompson is the author of
Fear and Loating on the Campaign Trail
, among many other books. He died earlier this year at the age of 67.